Original DSP3+ Vag Dash Prog Odometer Correction Tool Full package

Introduction
Hand-held mileage correction tool, powered by two CORTEX ARM cores, speed up to 200MHZ. With SD card interface to load and save files, USB port for update by Internet. 320*240 TFT LCD with 256K colors to show pictures and help files in detail. Integrate CAN-BUS / J1850 / CCD-BUS / ISO9141 / SPI protocols in one multifunctional interface.
Technical reference
Powered by industrial grade core board with Freescale i.MX28x processor, speeds up to 650MHZ, 800*480 TFT LCD and touch screen(7.0".16:9). Convenient keyset. USB host and USB device. SD card interface. 128MB NandFlash, 128MB DDRII.
We use industrial grade components to ensure the stability and reliability under a wide temperature range, from -40℃ to +85℃.
Whole machine passed EMC industry 4 grade quality assurance and durable performance, the product stability greatly improved.
The Wince6.0 operating system can ensure the software platform reliability and compatibility.
Self-check function integrated in system.
Enhanced OBD functions, including CAN-BUS / J1850 / CCD-BUS / ISO9141 / SPI protocols.
Intuitive operability by full menu and picture guidance. All data can be edited, stored and loaded.
Color connection picture is on the screen whenever you need.
The stored data can be transferred to a PC by USB port or SD card, and also can be transfer to wherever you want directly by internet.
Update directly from internet.

For advanced users there is an extended version of VAGprog with complete ODB2 coverage of Audi / Volkswagen. Additionally this edition is offering EEPROM programming on other makes and models.

Hardware: Main hand-held unit, OBD adapter, EEPROM adapter, USB cable, Clip 1, Touch holder1, Touch holder2, SD card and Power cables.
Software: Covers VAG cars

Full package, Include all hardware and optional software:
1, Main Unit
2, OBD adapter
3, EEPROM adapter
4, USB cable
5, clip1
6, Touch holder1
7, Touch holder2
8, SD card
9, Power cables
10, All Standard Software and Optional Software(Click and view the Support vehicle list.pdf )

SOFTWARE PRICE LIST
Options

SOFT

PRICE

TOTAL

Option 1

AUDI A3 / TT / R8 07 UP soft (Included in standard package now)

200 USD

Option 2

AUDI A4 / A5 / Q5 08 UP soft (Included in standard package now)

200 USD

Option 3

AUDI A6 / Q7 09 UP soft (Included in standard package now)

200 USD

Option 4

AUDI A8 07 UP soft (Included in standard package now)

200 USD

Option 5

TOUAREG / PHAETON / BENTLEY 08 UP soft (Included in standard package now)

200 USD

800 USD

Option 10

VW S12XHZ512 09 UP soft (Included in standard package now)

200 USD

Option 11

VW NEC+24C64 11 UP soft (Included in standard package now)

200 USD

Option 12

VW MARELLI 95320 soft (Included in standard package now)

200 USD

Option 13

VW JOHNSON 95320 soft

300 USD

Option 14

VW 2012 PASSAT B7-color soft

300 USD

Option 15

AUDI A1 NEC+24C64 soft

300 USD

Option 16

VW SAGITAR 2013 soft

200 USD

Option 17

AUDI A4/A5/Q5/S5 2013 UP soft

200 USD

Option 18

VW BORA NEC+95320 2013 UP soft

200 USD

Option 19

VW PASSAT CC 2013 soft

200 USD

Option 20

AUDI Q3 2013 NEC+24C64 soft

200 USD

Option 21

TOURAN color 2013 soft

200 USD

Option 22

SHARAN 2013 soft

200 USD

Option 23

T5 2013 soft

200 USD

Option 24

GOLF6 GTI 2013 soft

200 USD

Option 25

GOL G6 DIAG(Brazil) soft

200 USD

Option 26

SCIROCCO 2013 soft

200 USD

Option 27

TIGUAN 2013 soft

200 USD

Option 28

POLO 2012-UP SIEMENS VDO soft

200 USD
DSP3+ Vag Dash Prog:
Accessories and Adapter
Touch holder and Clip
DSP+ instruction document:
http://www.smelecom.com/sm/download.htm
DSP+ upgrade notice:
http://www.smelecom.com/sm/news.htm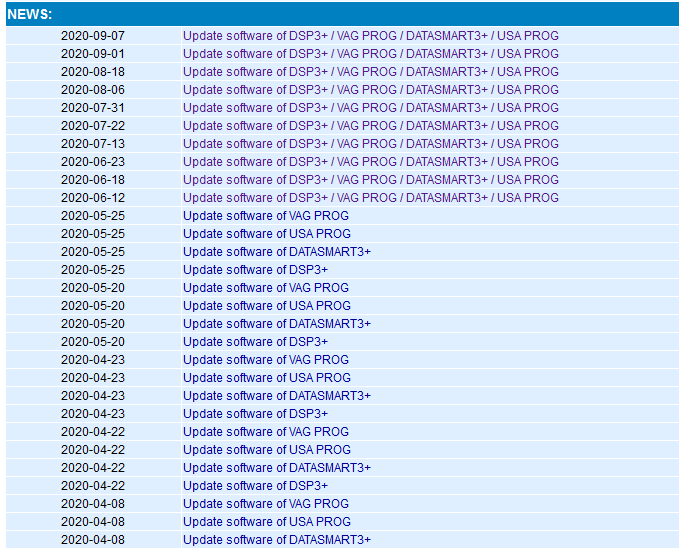 PRODUCTS COMPARISON TABLE:
| | | | | |
| --- | --- | --- | --- | --- |
| | | | | |
| ITEM NO. | AG143 | AG142 | AG118 | AG140 |
| | free 2021 update | free 2021 update | free 2021 update | free 2021 update |
| Touch screen display | Yes | Yes | Yes | Yes |
| HEX Editor | NO | Yes | Yes | Yes |
| Speed / Display | 600 Mhz / 800 x 480 | 600 Mhz / 800 x 480 | 600 Mhz / 800 x 480 | 600 Mhz / 800 x 480 |
| Adapters | OBD2, CMM | OBD2, CMM, EEE, Motorola, Muliplex | OBD2, CMM, EEE, Motorola, Muliplex, 35080-D80-160, HCS12, EWS, Denso | OBD2, EEE, Multiplex |
| Password protected | Yes | Yes | Yes | Yes |
| Stand alone programmer | NO | Yes | Yes | Yes |
| Update | Online | Online | Online | Online |
| Coverage | USA cars - OBD2 | USA/Asian cars - OBD2/On bench | German/USA/Asian cars - OBD2/On bench | VAG Group - OBD2/On bench |